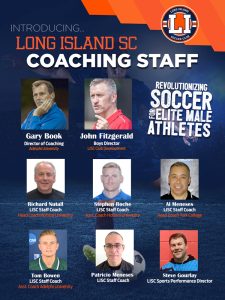 Long Island Soccer Club is pleased to announce its boys' program staff comprised of Richard Nuttall, Stephen Roche, Al Meneses, Patricio Meneses, Tom Bowen and Stephen Gourlay.
Nuttall, Roche, Al Meneses, Patricio Menses and Bowen will all serve as Staff Coaches, while Gourlay is the Sport Performance Director. All will serve under John Fitzgerald, LISC Boys' Technical Director.
"What we're bringing as a staff is a wealth of college experience and a vast network," Fitzgerald said. "It's something these players and parents might not get at other clubs because it's inherent to our staff and what we've done in our careers. It's not just about winning games now but the future of these young players moving forward. I'm looking forward to having a positive impact on that as a club."
Nuttall is entering his 31st season as head men's coach at Hofstra University. A former professional player, Nuttall has won more than 250 Division I games with the Pride, guiding the team to four Colonial Athletic Association championships. He brings not only a wealth of high-level college coaching experience but also a vast network of relationships with the top coaches in the United States.
Roche, head coach of the Long Island Rough Riders men's USL League Two team, has been an assistant coach on Nuttall's staff since 2016. A highly regarded up-and-coming young coach, Roche previously played professionally with the University College Dublin Football Club in the League of Ireland Premier Division.
Al Meneses, who is entering his third year as head men's coach at York College, has more than 25 years of coaching experience at all levels of soccer, including semi-professional, amateur, NCAA, NJCAA, ODP, premier, travel and youth programs. Meneses is well known for his insightful coaching and team preparation and connects LISC players to the massive landscape of NCAA Division III soccer.
Patricio Meneses, who founded Vernon Hills Soccer Club in Illinois, has coached under the Rough Riders umbrella including Junior Rough Riders, Summer and Winter select teams, and Super Y League teams. He has also coached for Elite Level Soccer (ELS) throughout Long Island. Meneses is also the NCAA Faculty Athletic Representative at Fordham University. He provides an experienced perspective on the academic advisement process for college choice.
Bowen, who is in his first season as assistant men's coach at Adelphi University, has also served as an assistant coach at LIU Post following his playing career with the Pioneers. A top-level coach with an already impressive background, Bowen provides access and understanding of the NCAA Division II landscape as well as a high level of expertise on player performance analysis.
Gourlay, a former pro player with Rangers FC in Scotland, owns and operates Hammer Athletics, based in Syosset, N.Y. He boasts an extensive résumé as a trainer with more than 20 certifications, including NSCA-TSAC, Kettle bell, and Certified Strength Coach. Gourlay heads the LISC process of making every player "fitter, faster and stronger" by the most effective and scientific means possible.