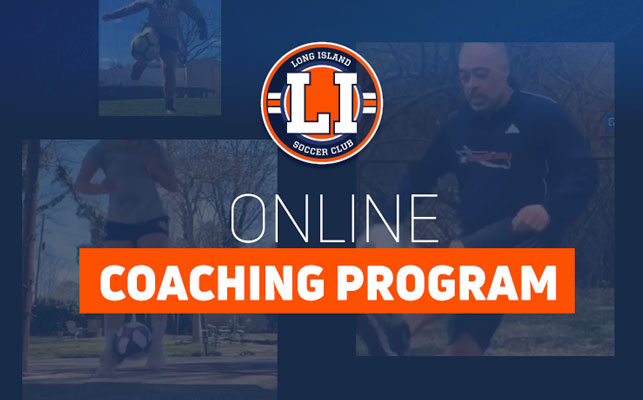 Stay Active at Home With Long Island Soccer Club's Online Coaching Program
Long Island Soccer Club has created an Online Coaching Program for its players to remain healthy and active despite being instructed to remain at home as a result of the coronavirus pandemic.
The club, which suspended all practices and meetings on March 12 until further notice in order to guarantee the safety of its players, parents, coaches and staff, has been offering its players an extensive online curriculum to practice and train in the safety of their own homes. The LISC online coaching program launched in full on Monday March 16, just 4 days after practices were suspended, showing just how quickly the club adapts to adverse situations.
"The main priority of our Online Coaching Program is to ensure the health and safety of each and every player at Long Island Soccer Club during these unprecedented times," LISC Technical Director Gary Book said. "We feel it is also our responsibility as a club to provide our players with the tools they need to succeed, so while we have suspended all in-person meetings and practices for the foreseeable future, we have created an online curriculum players can benefit from in the comfort and safety of their homes."
"Not only is it important for them to stay active, but remaining connected with their teammates and coaches is a tremendous psychological boost for our players which is crucial at this time."
Each week, the LISC coaching staff have taken a strategic approach to teaching club philosophy in a holistic environment that includes the technical, tactical, physical and psychological dimensions of the sport.
Sunday to Monday evening, club directors host online webinars for the coaching staff, while players participate in live fitness sessions with Sports Performance Director Stephen Gourlay.  Each Tuesday through Thursday, LISC coaches present online webinars, guided by a theme of the week video explaining "The LISC Way".  Themes have included Positive Possession, Defensive Pressing, and a variety of technical skill instruction while the virtual team meetings offer player interaction, virtual homework, guest speakers, and video and game review further elaborating on the theme of the week.
LISC 2004 Girls Academy Player Madison O'Sullivan stated, "LISC's online coaching program is very well executed, they were very prepared as a club and we had access to it right away as players. We are able to get tactical sessions through our Zoom meetings, technical training with the Techne Futbol app, and physical training with Coach Steve's sessions. This helps us to create a plan, keeps us motivated, and gives us the tools we need to find individual success until we can get back on the field ."
All throughout the week, players can take advantage of skills workouts via Techne Futbol and strength, speed and agility workouts provided by Gourlay, club coaches and TeamBuildr.  Schedules, programs, and videos can all be accessed via the Online Coaching Program portal on the LISC website.  Players are also encouraged to test their skills with the Skill of the Day and are invited to submit their videos to the LISC Instagram account.
Xavi from our Boys 2006 team had this to say about the online program "Our coaches are working very hard to make this experience a productive one, so that when we get back on the field we are better than before. Thank you to all the coaches and staff for all the hard work they have put in to make our online learning possible."
Not only will the players be honing their on-field skills safely and securely at home, additional virtual meetings and "Special Topics" sessions including college choice, mental fitness, and health and nutrition will be available at their fingertips to round out player and personal development.
John Moran, Board Certified Safety Professional, who is a parent from the Girls 2007 Premier Team had this to say about the club: "LISC moved their on field expertise immediately to an online platform without missing one training session. They were well prepared and have an apt for developing all aspects of my daughter's game and Ava looks forward to seeing her teammates each week on Zoom."
Moving forward, Long Island SC will continue to offer elements of the Online Coaching Program in a "hybrid" approach to education and player development in an effort to maximize learning in what will certainly be a new landscape for youth sports.